Description
Antibacterial Surface Film: Futureproof Protection
a
In today's hygiene-focused world, antibacterial surface protection film offers a powerful solution for enhanced safety. Engineered with advanced technology, this film actively combats harmful microbes, ensuring surfaces remain clean and protected. Ideal for public areas, healthcare settings, and homes, it's a game-changer in setting high safety standards.
a

a
What is Antibacterial Surface Protection Film?
Our antibacterial surface protection film is a state-of-the-art protective layer composed of transparent cast polymeric PVC of 60 microns. It's infused with antimicrobial agents and coated with a pressure-sensitive acrylic adhesive. This film is specifically designed for surfaces that demand a high degree of hygiene. Whether it's public areas, agri-food sectors, wet rooms, or hospitals, this film ensures maximum protection against harmful microbes.
a
The Power of Silver Ions
Silver ions play a pivotal role in the antimicrobial properties of the film. When pressure is applied to the film, such as through touch or contact with the skin, these silver ions are activated and released. Unlike some other antimicrobial agents that merely inhibit or block the growth of bacteria, microbes, and viruses, silver ions actively target and neutralize these harmful pathogens.
The mechanism of silver ions is twofold: firstly, they disrupt the essential processes of the bacteria, rendering them inactive; secondly, they prevent these microbes from reproducing, thereby halting any potential spread. This dual action ensures that the treated surfaces not only become free of germs upon contact but remain consistently protected against microbial contamination around the clock.
a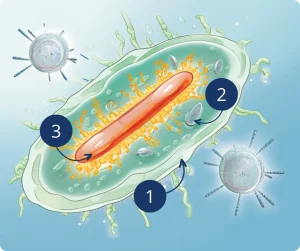 Silver ions bind to the bacterial cell wall blocking the transport of substances in and out of the cell.
Silver ions are transported into the bacterial cell where they block the respiratory system destroying energy production.
In the bacterial cell, silver ions interact with DNA and inhibit bacterial cell division stopping replication.

a
a
a
a
a
a
a
a
a

---
Applications and Benefits
The antibacterial surface protection film can be paired with other various film applications such as our anti-shatter window protection film, and has found its way into a wide range of applications, ensuring safer and more hygienic environments. Here's a deeper look into its varied uses and the benefits they bring:
High-Traffic Areas: Places like public transport systems, railway stations, and airports

witness a large influx of people daily. These areas have multiple touchpoints, such as door handles, that can become hotspots for germs. The antimicrobial film, when applied to these touchpoints, significantly reduces the risk of microbial transmission, offering a safer transit experience for the public.




a

Medical Facilities: In settings like hospitals and health centres, where the risk of infection is high, the antimicrobial film plays a crucial role.
By applying it to surfaces frequently touched by staff, patients, and visitors, the spread of harmful pathogens can be curtailed, ensuring a safer environment for patient care and recovery.


a





a

Workplaces: Offices and other work environments benefit from the film in multiple ways. By reducing the presence of microbes on shared surfaces like desks, keyboards, and door handles, the likelihood of employees falling sick decreases. This not only leads to fewer sick days but also fosters a more productive and health-conscious work environment.


a

Public Spaces:

Recreational areas such as bars, playgrounds, sports halls, and supermarkets

 are frequented by people of all ages. Ensuring these spaces are free from harmful microbes is essential for public health. The antimicrobial film offers this assurance, making these spaces safer for everyone.


a



Food Industry: The stakes are high in the food industry, where even a minor microbial contamination can lead to severe health repercussions. Whether it's processing units, packaging areas, or storage facilities, the antimicrobial film acts as a frontline defence against notorious pathogens like Salmonella, Staphylococcus aureus, and Listeria. Its effectiveness even extends to newer threats like the Coronavirus, ensuring that the food we consume is not just fresh but also safe.
a
Quality Assurance and Durability
Every antibacterial surface protection film we offer undergoes rigorous testing for antimicrobial effectiveness. Moreover, skin tolerance studies are also conducted to ensure user safety. It's essential to note that while the film offers continuous protection, it should not replace regular cleaning and disinfection protocols, especially during pandemics.
The antibacterial surface protection film is easy to apply, leaves no residue upon removal, and its antiviral effectiveness is autonomous, neutralizing 99% of germs. The film is also skin-friendly and non-irritant. Designed for all environments, it's suitable for all smooth surfaces. Its transparency and matte finish make it almost invisible. Moreover, it's resistant to most cleaning products, ensuring longevity. On average, the coating lasts for about 5 years.
a
Maintenance
One of the standout features of the antibacterial surface protection film is its low maintenance requirement. Once applied, it doesn't need any special care. Regular cleaning with mild detergents or cleaning agents will not affect its antimicrobial properties. However, it's essential to avoid using abrasive tools or harsh chemicals that might damage the film's surface. Periodic checks for any wear and tear can help in timely replacements if needed, ensuring continuous protection.
a
a
Antibacterial Surface Protection Film Installation Guide


a
Installation Process
The process of installing the antibacterial surface protection film has been designed to be user-friendly and straightforward, ensuring that anyone can apply it with minimal hassle. Here's a more detailed breakdown:
a
Surface Preparation: Before the film's application, it's crucial to ensure that the target surface is clean, dry, and free from any dust or contaminants. This ensures optimal adhesion and effectiveness of the film.


a

Application: Once the surface is prepared, the film can be carefully laid out on it. It's essential to align it correctly to ensure full coverage of the desired area.


a

Eliminating Air Bubbles: After placing the film, you might notice some air bubbles trapped underneath. Using a simple squeegee or a similar tool, you can smoothly glide over the film's surface, pushing out these bubbles towards the edges. This step ensures that the film sits perfectly flat against the surface, maximizing its protective capabilities.


a

Trimming and Finishing: If there are any excess edges or if the film needs to fit a specific shape, it can be carefully trimmed using a sharp blade or scissors.


a
Seeking Expertise
While the installation process of the antibacterial surface protection film is designed to be DIY-friendly, there might be instances or specific applications where professional expertise is beneficial. Our experts, trained in film application, can ensure a flawless finish, especially in complex or large-scale installations. They can also provide valuable tips and tricks to maintain the film's longevity and effectiveness. Contact us now to learn more about our antimicrobial film solutions and take the first step towards a more protected future.